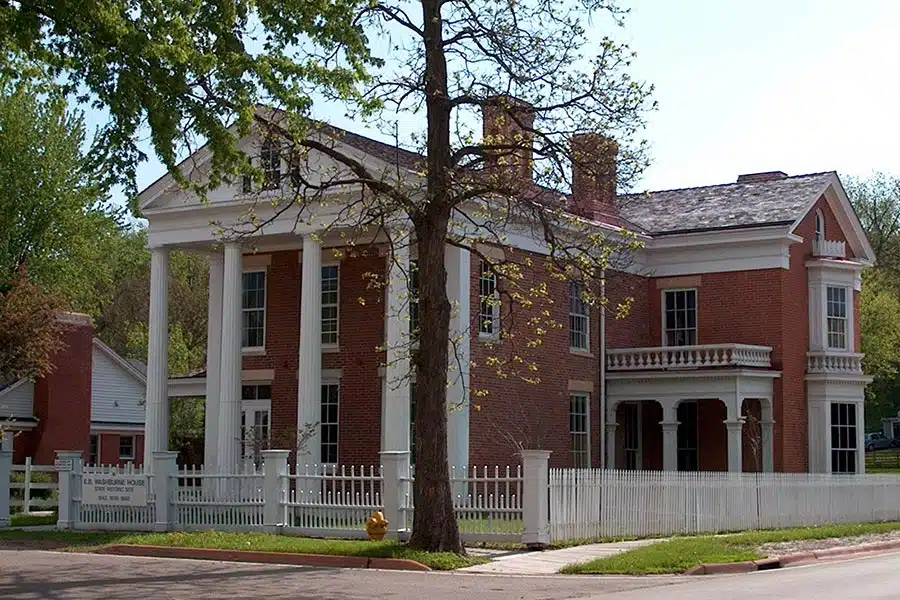 Step back in time and meet Elihu Washburne and others from the pages at history at a very special Sunday Social, hosted by The Galena Belles Questers. August 20th, 2023 at the Elihu B. Washburne House in Galena, IL.
Elihu B. Washburne (1816-1887), though maybe not familiar to you, is an important person from both Galena and our country's past. This Galena citizen was a prominent local attorney, U.S. congressman, Secretary of State, U.S. ambassador to France, and political adviser to both Abraham Lincoln and Ulysses S. Grant. Further, though he was initially a Whig delegate, Washburne and three of his brothers were instrumental in the formation of the Republican party.
Born in Livermore, Maine in 1816, Washburne worked a number of jobs before completing his legal studies at Harvard Law School in 1840. After passing the bar exam, he moved to Galena and began practicing law under Charles S. Hempstead. Over the next 5 years, he maintained a successful law practice, met and married his wife, Adele, and built a Galena home for his new family.
Washburne's professional success continued and he rose to prominence in Galena and well beyond. Active in politics, he served as a Whig delegate, then as a member of the newly formed Republican party. He was a also strong supporter of Abraham Lincoln and Ulysses S. Grant, advocating for and advising both over many years. He served as Grant's Secretary of State, albeit very briefly, then as U.S. ambassador to France.
After Grant's second term of office ended in 1877, Washburne and his family moved to Chicago, selling their Galena home to the Sheehan family. The Sheehans lived on the property until 1968, then sold it to the State of Illinois.
The Elihu B. Washburne House
The Elihu B. Washburne House, listed on the National Register of Historic Places, is located at 908 Third Street in Galena, just 15 minutes from Hawk Valley Retreat & Cottages.
The house was constructed between 1843 and 1845 in the then popular Greek Revival style, including a temple-like front portico with prominent pillars. It was enlarged to its present size some 16 years later.
Washburne organized the house into three distinct sections. There are formal areas for guests and visiting dignitaries, informal spaces for the family, and servant work areas.
The stunning mansion is now a historic house museum, restored to its 1866 condition, inside and out. All the rooms are decorated and furnished to befit a well-to-do mid-western professional. A model of Victorian age, middle-class gentility.
Touring the Elihu Washburne House
Visitors to the Washburne House can take a 25-minute guided tours of rooms on both the first floor and second-floor. These include the entry hall, parlor, sitting room, library, dining room, kitchen, pantries, master bedroom, and a second bedroom.
The tour emphasizes Washburne's life and times as well as his Civil War-era friendships with Abraham Lincoln and Ulysses S. Grant. Adele Gratiot, Washburne's wife, is also focused on, providing insight into the French and Native American cultures of the Galena region. You'll also learn about the state's restoration and refurnishing of the house.
The Washburne House is located at 908 3rd Street in Galena, IL. It is open Fridays, 10am to 4pm, July through October. Tours start on the porch and continue throughout the day. If no guide is available when you arrive, simply wait on the porch and, within 10 to 15 minutes at most, one will appear to start your tour. The first floor is accessible to persons with disabilities. The second floor is not.
Visit www.granthome.org for more information.
A Sunday Social with the Washburnes
The Galena Belles Questers are holding a Sunday Social at the Elihu B. Washburne House, from 1pm to 3pm, August 20th, 2023.
This living history event will include a welcoming by Elihu and Adele, a visit by the Generals, music by the Divas, and tours of the house. Visit www.visitgalena.org for more information.
The Galena Belles Questers,part of an international Quester organization, volunteer docent at the Elihu Washburne House, providing tours and special events like this living history, Sunday Social.
Hawk Valley Retreat is proud to be a part of the Galena community and loves sharing the area with our guests. What are you hoping to see or do during your stay at our Galena bed and breakfast? Let us know and we can help you make the most of your time!