Hawk Valley Retreat and Cottages and The Cording Event Barn were just named the Best Place to Elope by WheretoElope.com. According to the website " Hawk Valley Retreat took second place in 2021. This year their beautiful barn weddings in Galena, IL have topped the list of the best places to elope in 2022." Check out the list here.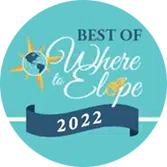 You Bring the Dress, We do the Rest
While we are honored to get this award, what we really care about is making each elopement and wedding that we do "your day, your way!" While we have done many ceremonies in the last three years, each and every one of them is special and unique. We work with you to make sure the service, the surroundings, and every detail are perfect. We meet with each couple before they arrive to plan the day and make it seamless and special. Everything from what flowers you want, to what type of service, to what flavor of cake is covered.
For more information about our Elopements and Intimate Weddings, check out our packages here.