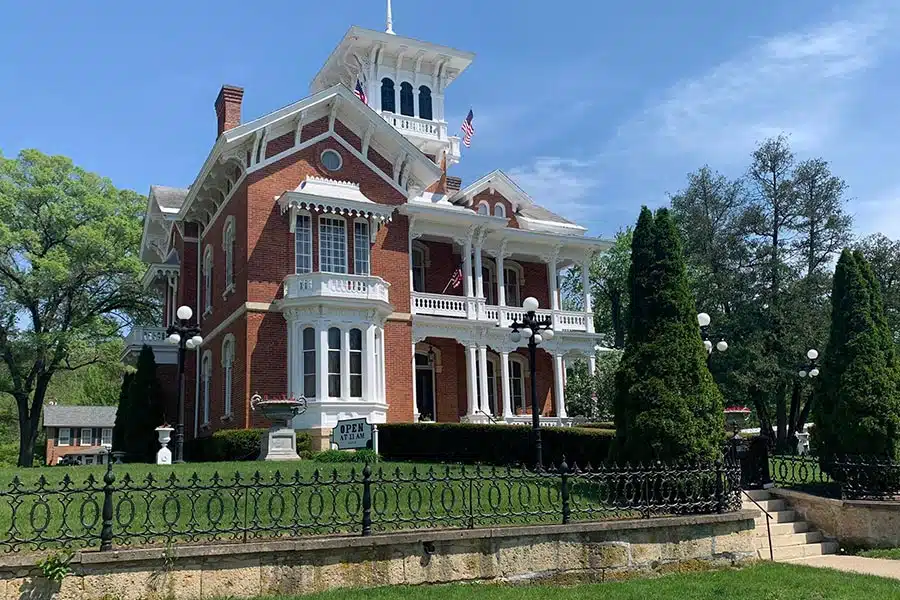 Step back in time with a tour of The Belvedere Mansion and Gardens. The 22-room, 1857 Italianate mansion is filled with Victorian furnishings and considered by many to be the finest, historic mansion in Galena, Il.
The Belvedere was built in 1857 by J. Russell Jones. J. Russell Jones (1823 – 1909) was a self-made man who found success in the world of steamboats, cotton, and railroads. In his later years, he served as US Marshal, Chairman of the Republican Party, and as a US ambassador to Belgium. Jones was also a champion of Ulysses S. Grant, supporting him during the Civil War and his campaign for President of the United States.
It's no wonder that a person of such stature would have a home of equal consequence, and such is The Belvedere. In fact, the mansion was so impressive that, even during its construction, an anticipatory article was written about it the Galena newspaper. Once finished, Jones' mansion became a hub for visiting and local dignitaries.
Jones passed away in 1909 at the age of 86 but The Belvedere lived on through a series of private owners over the years. Luckily, most kept the mansion in good shape, adding to what has become a eclectic collection of furnishings and details. In fact, unlike so many historic homes open to tour, The Belvedere remains an actively occupied home. The current owners still live here but, wanting to share the home's beauty and history, graciously open it to the public.
Touring Belvedere Mansion and Gardens
The Belvedere Mansion is located at 1008 Park Avenue in downtown Galena, IL just 15 minutes from the door of Hawk Valley Retreat.
An informative tour takes you through the 22-room, Italianate-style mansion to see its many treasures. Lavish Victorian furnishings and woodwork abound and wait until you see the house's collection of exquisite chandeliers. There's even a rare Tiffany with glowing clusters of glass grapes.
The mansion's collection is eclectic and meandering. A fascinating selection of items purchased by the various owners over the years. Highlights include two chairs and a sofa once owned by Theodore Roosevelt, a chair from the Vatican, and a variety of items from the estate of Liberace. There are also a number of items from Hollywood, including the famous velvet green drapes from "Gone With the Wind."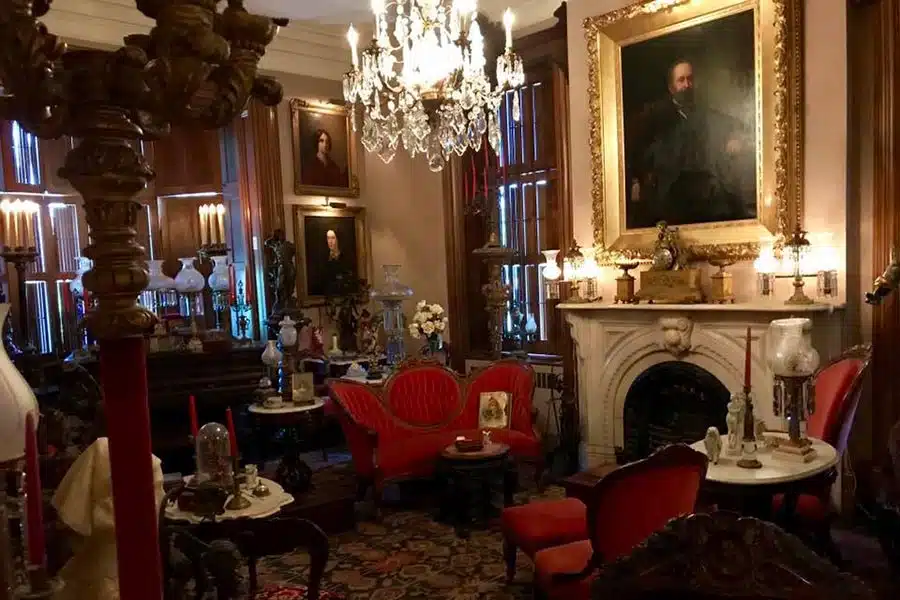 The formal country gardens and walkways surrounding the Belvedere are a recent addition. They were designed to reflect the same period as the house, using vintage and heirloom plants. The gardens and grounds are lush with circles of seasonal flowers, Hibiscus urns, bronze statuary, fountains, and playing birds. The perfect setting for a relaxed stroll and encouraged by the current owners.
The Belvedere and its gardens are truly fascinating and worth your time. A real walk through history, style, and grace.
When To Visit
The Belvedere Mansion and Gardens are open to the public from mid May to mid November.
Tours start about every 15 minutes with no reservations required. Just mount grand Victorian porch and ring the bell. Belvedere Mansion Tours take approximately 30 minutes and are completely air conditioned. The gardens may be enjoyed at your own pace.
Visit the Belvedere Mansion and Gardens website for more information.
Galena is steeped in history, with a great many museums, historic buildings, and other points of interest to explore. If you like history, then you'll love Galena, IL. Just let us know and we'll aim you in the right direction.
Hawk Valley Retreat loves sharing Galena with our visitors!