Dining out may be one of the most popular activities in Galena. Here are some of our recommended Galena Restaurants for 2023. This list includes our favorites, but don't hesitate to ask about other options if you don't see what you are looking for.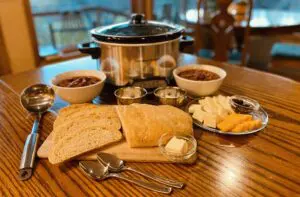 Many of the Galena restaurants are located on Main ST along with all the fantastic shops. Several of them also have their own parking lots which can make getting there even easier.
Of course, at Hawk Valley Retreat and Cottages, we have breakfast covered. And did you know, you don't have to leave the comfort of your cottage or room to enjoy a special dinner? We offer several options including slow-cooker meals, our loaf, and ladle, and grill your own options. Check out our offerings here.
We always recommend reservations, if available, and checking operating hours as they change throughout the year. This list starts more formal and goes to more casual dining. As a bonus, we have included some close-by restaurants that may just fit the bill.
Recommended Galena Restaurants for 2023
Fritz & Frites
317 N. Main ST, Galena– (815) 777-2004
A little bit German and a little bit French, and a whole lot delicious. This cozy bistro is a perfect date-night location. We love the Schnitzel.
Goldmoor Dining & Spirits
9001 W. Sand Hill Road, Galena– (815) 777-3925
Dine in luxury with a view of the Mississippi. The European flair will be sure to impress the special someone in your life. The Beef Wellington never disappoints.
Log Cabin Steakhouse
201 N Main ST, Galena– (815) 777-0393
In continuous operation since 1937, making it Galena's oldest restaurant. Serving hand-cut Angus beef and many old-school favorites. The best Prime-Rib in the area.
Fried Green Tomatoes
213 N. Main ST, Galena – (815)-777-3938
From Pasta to Steaks to Seafood, Fried Green Tomatoes features Tuscan favorites in a relaxed fine-dining atmosphere.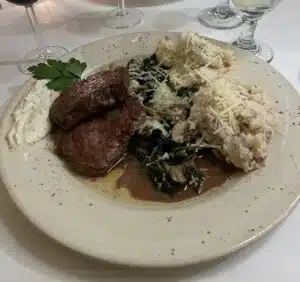 Savory Kitchen
309 N. Main ST, Galena– (815) 281-9422
This Chef-run restaurant is small but delivers some fantastic dinner options. We love the beef medallions.
Little Tokyo
300 N. Main ST, Galena – (815) 777-8883
If you are in the mood for sushi and other Asian specialties, this is the place for you.
Frank O'Dowd's Irish Pub
9853 Highway 20, Galena – (815) 776-0707
Traditional and modern Irish fare rule here. There is often live entertainment in this pub-style eatery, complete with your favorite Irish Beers. We love the corned beef.
Galena's Tajin Mexican Restaurant & Cantina
125 N Main ST, Galena – (815) 281 – 2276
Authentic Mexican food and handmade margaritas that we don't think can be beaten.
Embe Eatery and Lounge
233 South Main ST, Galena – (815) 777-2323
This casual restaurant and bar have some of the best sandwiches, soups, and salads around. Don't miss the bread pudding for dessert.
Bread and Vine Bakery
217 S Main ST, Galena – (815) 402-2100
Homemade French Pastries are the star here, but don't miss their amazing salads, sandwiches, and shareable plates. Never pass up one of their Almond Croissants.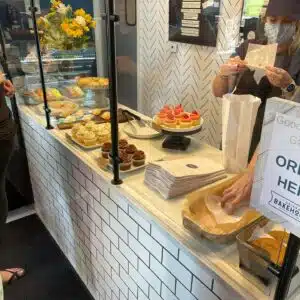 Cannova's Pizzeria
247 N Main ST, Galena – (815) 777-3735
Best known for their amazing pizzas, don't pass up their other Italian Specialties.
Durty Gurts Burger Joynt
235 N Main ST, Galena – (815) 776-9990
Home of amazing burgers and sandwiches in a casual, irreverent space. Don't miss the boozy shakes or the rum buckets.
421 S Main ST, Galena – (815) 402-3308
Scratch-made baked goods, including amazing empanadas, cookies, pastries, and the best Macarons. Oh, and don't forget the chocolate chip cookies.
Other Close-by restaurants
While there are many Galena area recommended restaurants, if you are looking for somewhere a little bit off the beaten path, here are a few other options.
Brazen Open Kitchen
955 Washington St., Suite 101, Dubuque, IA 5200 – (563) 587-8899
Over the river in Dubuque features local and scratch ingredients by a James Beard-nominated chef.
Timmerman's Supper Club
7777 Timmerman DR, East Dubuque, IL – (815) 747-3316
A short drive from Galena, featuring the best views of the Mississippi, this old-shool supper club serves classic food and beverages.
Southside Hornet Pub & Grill
402 Franklin St, Scales Mound, IL – (815) 845-2417
Located about 5 minutes from Hawk Valley, this local pub offers burgers, pizzas, and sandwiches in a very casual tavern atmosphere.
The Old School Saloon
311 Provost Avenue, Scales Mound, IL – (815) 845-8140
Literally, the old school turned into a local favorite serving pizza and sandwiches.