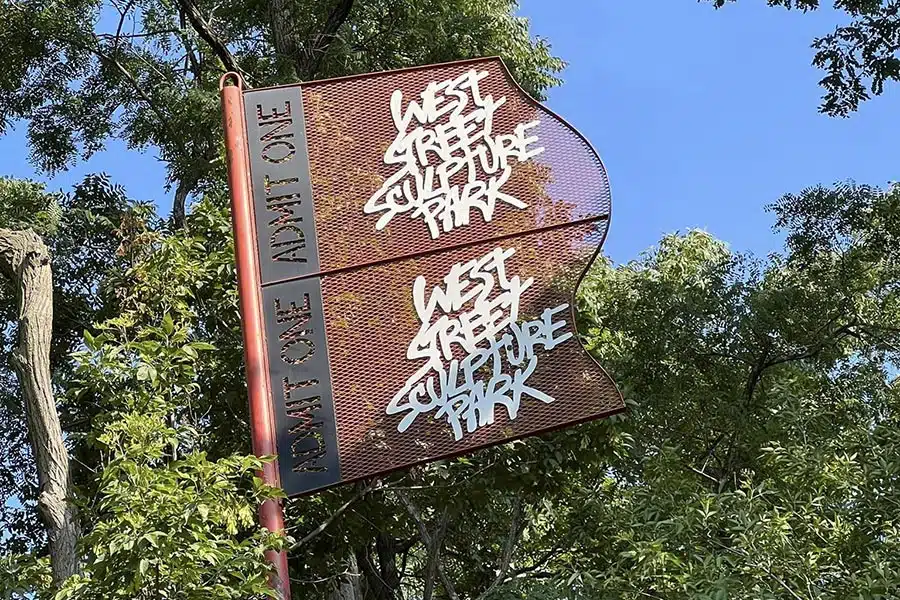 Art and sculpture fans visiting Galena, Il will definitely want to take the time to visit West Street Sculpture Park. This fun and quirky roadside attraction features over 30 steel sculptures arrayed across a lovely two acre park. A real hidden Galena gem!

John Martinson has been creating unique and thought provoking sculptures from scrap materials at his Galena studio since 1986. Over the years, his collection of unusual and thought provoking creations has grown, becoming something of a local legend.
At first glance, you might think the pieces are just the work of some local yokel who likes welding old junk together. In fact, John is a true artist who studied art at U.W. Madison. He's sculpted a variety of privately commissioned pieces as well as public installation and has exhibited in two-person shows at Dubuque Museum of Art, Chicago's Beverly Art Center, and the Harry Nohr Gallery at UW-Platteville, to name but a few.
Of course, you really don't have to know all that to appreciate the work at West Street Sculpture Park, though. The work speaks for itself!
A Unique Galena Sculpture Park
Visitors to West Street Sculpture Park will discover a lightly wooded outdoor space, decorated with a menagerie of John Martinson sculpture, both big and small. Maps for self-guided tours of the park are available at the Information Center near the driveway. The park space is open, friendly, and inviting: "Stay on the paths, or don't."
Park sculptures include two 40-foot towers and interactive pieces like the "Klymme" monkey bars and the squeaky, rotating "Sunrise Spinnin". There are numerous figurative works, whimsical and decorative pieces, along with lots of humorous and contemplative works, sometimes both at once!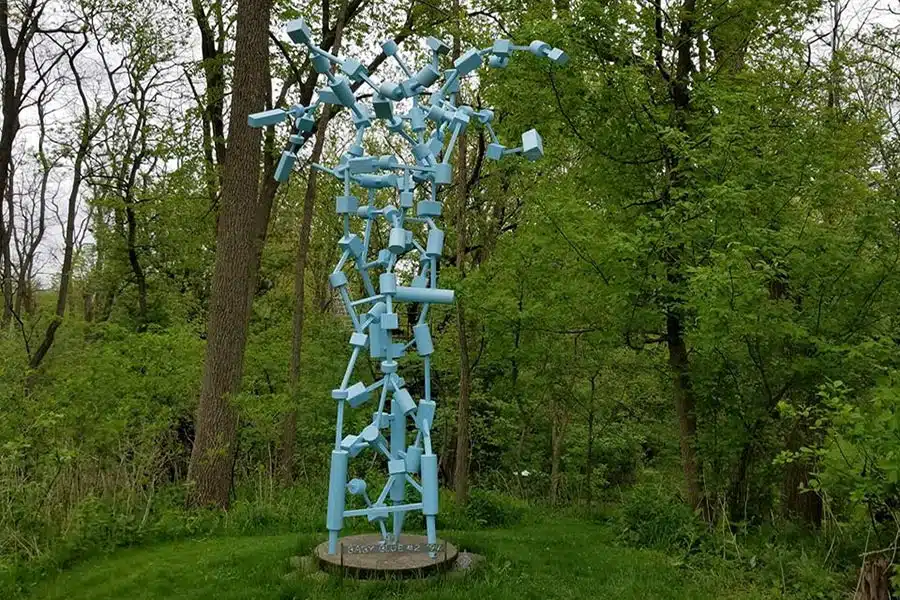 Nearby plaques identify sculptures by year and title. Titles are often cleverly punny or thought provoking, adding a whole other dimension or two to a work's potential meaning.
Even the best pictures of the park don't do it or the works it contains justice. You really have to be there, seeing these unique sculptures as they interact in the natural environment.
John Martinson maintains a studio on the park grounds and many of the smaller works on display are for sale. When the artist is in, he will sometimes come out for a friendly chat with park visitors. What fun!
All in all, West Street Sculpture Park is a fantastic choice for something fun and free to do in Galena.
West Street Sculpture Park
West Street Sculpture Park is located at 620 S W St in Galena, just 15 minutes from Hawk Valley Retreat. The park is open dawn to dusk, year round, with parking on the street side or in the small driveway. Admission to the park is free but consider making a donation at the Information Center.
Visit the West Street website for more information. You can also find the park on Facebook.
Galena is home to variety of art studios and galleries. You could easily make a day out of exploring the various shops, galleries, and art spaces like West Street Sculpture Park in Galena! Get out, see some wonderful art, enjoy Galena's food and drink scene, then head back to the comforts of your digs at Hawk Valley Retreat.