We're rapidly approaching the end of another year here at our Galena Bed and Breakfast and what a year it has been! 2022 went by in a flash and we're still buzzing from all the wonderful guests and fun times we had. Looking back over the year warms us with its happy memories but makes us that much more excited for next year.
2022 was a truly remarkable year in a number of ways.
One of the most exciting highlights was opening the newly renovated Cording Event Barn. The refreshed space is truly stunning with exposed posts and beams, reclaimed oak floors, expansive windows, an outdoor deck, and commercial kitchen. Our handicapped accessible Cording Event Barn is perfect for intimate weddings, elopements, family reunions, business retreats, and other gatherings of 45 people or less.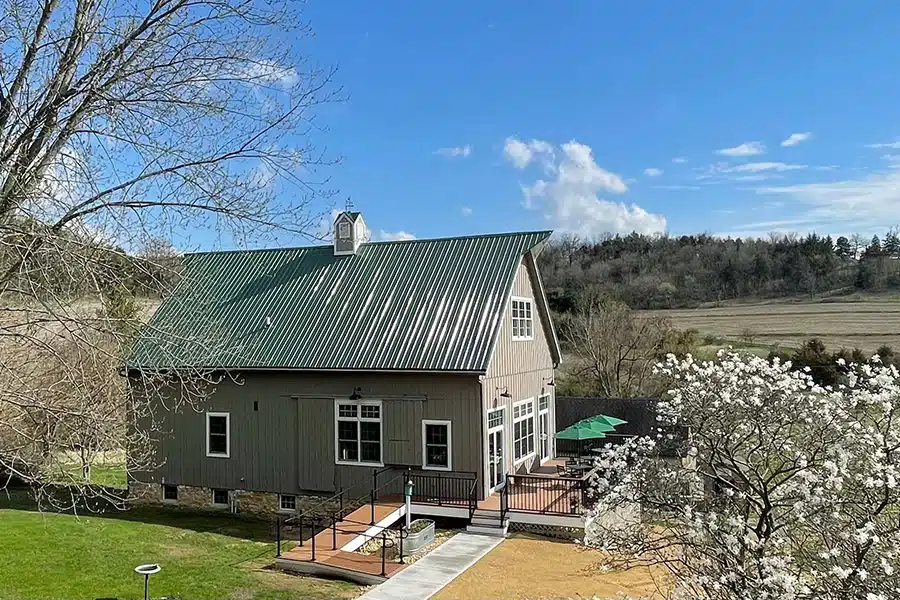 We also refreshed the Meadows and Woodlands rooms, as well as Somerset Cottage, with new paint, lighting, and fixtures.
2022 also saw us hosting number of intimate weddings and elopements. We are so proud to be a part of so many joyous unions and wish the happy couples unending years of mutual love and respect.
This was a busy year in the garden, too. A wide variety of flowers, herbs, and vegetables, grown right here on the property, were enjoyed by our guests. Our farm's animal friends contributed too, providing fresh honey and eggs.
We're also proud to have been named an "Awesome Romantic Getaway" by Money Inc and one of the top 25 B&Bs in the country by Trip Advisor.
Most of all, though, we treasure the memory of our guests. We love sharing our property and the Galena area with others and couldn't nor wouldn't do this without you. Thank you so much for a fantastic year. We hope to see you again in 2023!
2022 At Our Galena Bed and Breakfast
5/5
"I thought all 5 star reviews has to be a mistake but not the case at Hawk Valley. Honestly we couldn't be happier with our stay. John and Jim are excellent hosts and we felt right at home. Comfortable rooms, beautiful grounds, and delicious breakfast – what more do you need? Highly recommend for peace and quiet if you're looking to get away and recharge."
Tim Campbell – December 2022
5/5
"If you need a break from the stresses of life, Hawk Valley is your answer. Jim and John are the ultimate hosts – they are so welcoming and accommodating. From their made from scratch breakfasts to the serene environment, this place is absolutely a perfect place to "Relax, Restore and Explore". We cannot wait to visit again!"
Mallory Charatz – November 2022
5/5
"Jim and John are the perfect hosts. Hawk Valley is incredibly relaxing, a great setting in the middle of nature, the perfect place to unwind and just sit back. We've stayed in The Garden Room twice and have already booked stay number 3. We can sit on the deck and watch birds, deer, listen to frogs, and just totally escape from our normal hectic lives. When we get the itch for civilization, Galena is just 15 minutes away."
Charlie Gall – September 2022
5/5
"As soon as you enter the grounds, you feel a sense of peace. The trees, pond, and cottages tie it all together! You can tell how much love and care is put into everything – the beds, details about breakfast (which is amazing), and amenities for guests. I cannot recommend this place enough – it is worth the trip, even if all you do is hang out at the retreat and don't do much in nearby Galena."
Viki Powers– August 2022
5/5
"Goodness!! Where do I start?? Well from the beginning of our stay til the very final checkout, I have never been treated so well and cared for. A truly restful visit with wonderful a atmosphere and gourmet dining. I really enjoyed the whimsical gardens, comical goats and chickens. The night sky was filled with millions of stars- we could not have asked for a better weekend. Very accommodating and totally green with everything these two highly gifted innkeepers provide to their guests; from the cookies and trail mix in the rooms to the oh so soft sheets and towels. If you want a place to totally relax and pampered, this is the place. We are already planning our trip back."
Sandy Bild-Kacena – July 2022
Hawk Valley Retreat Gift Certificates
Hawk Valley Retreat gift certificates make an excellent gift for a number of reasons, not the least of which is how customizable they are.
Our gift certificates have no set amount, allowing you to make them as giving or economical as you would like. Further, they can be used for almost anything at the inn, with the exception of 3rd Party (OTA) bookings. This includes your accommodations and any extras or add-ons.
Hawk Valley Retreat gift certificates can come to you for personal delivery or be sent directly to the recipient. Whatever suits your situation best. Further, our gift certificates are good for up to five years from date of issue, allowing the recipient time to use your gift, rather than feeling pressured to use it or lose it.
Best of all, our gift certificates are very easy to purchase. Simply fill out the form, make your payment, and voila: instant gift getaway to Galena!
Happy Holidays from Hawk Valley Retreat & Cabins!