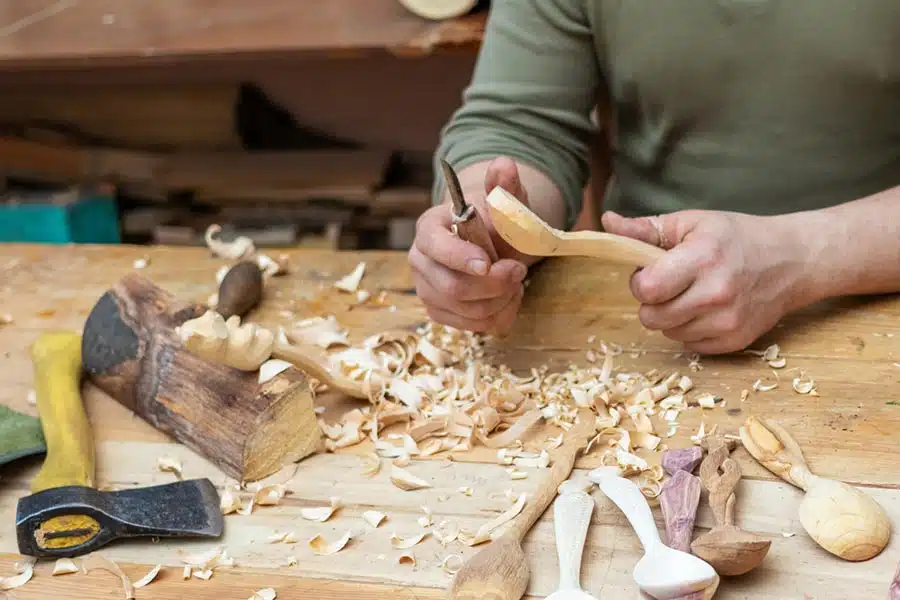 Looking for something new to do during your Galena getaway? How about spoon carving? The classes offered by artist, Paul Pendola, owner of Galena Spoon Company, are very popular and will have you carving your own spoons in no time!
While it is highly possible that spoon carving isn't near the top of your vacation bucket list, maybe it should be?
In this ever faster world of technological marvels fracturing your attention, taking the time to sit down and create something useful with your hands can be especially relaxing and meditative. Learning a new skill is always rewarding and this one doubly so, as you gain the ability to make something from nothing. Turning what is essentially firewood into a utensil you'll be proud to use in your own kitchen. – or even give as a very special gift, indeed!
Galena Spoon Company
You'll want to stop by Galena Spoon Company whether you're interested in spoon carving or not. The quaint and friendly shop is located in downtown Galena at 201 Hill Street, less than 15 minutes from the door of Hawk Valley Retreat.
Inside, you'll find both new and vintage, high-quality, handcrafted kitchen items and home decor. Hand carved wooden spoons, spatulas, and other woodenware, kitchen boards, hand turned wood bowls, ceramics, and fabrics. There's even a select range of specialty foods. Small-batch, gourmet syrups, jams, mustard, spices, and more. Galena Spoon Company is a truly wonderful source of distinctive gifts for the hard to buy for.
Better yet, the shop owner, artist, Paul Pendola, is responsible for many of the items you see for sale in his shop and offers daily, in-store carving demonstrations. How cool is that? His work is beautiful and he makes it look so fun and easy, you end up wanting to learn the skill yourself …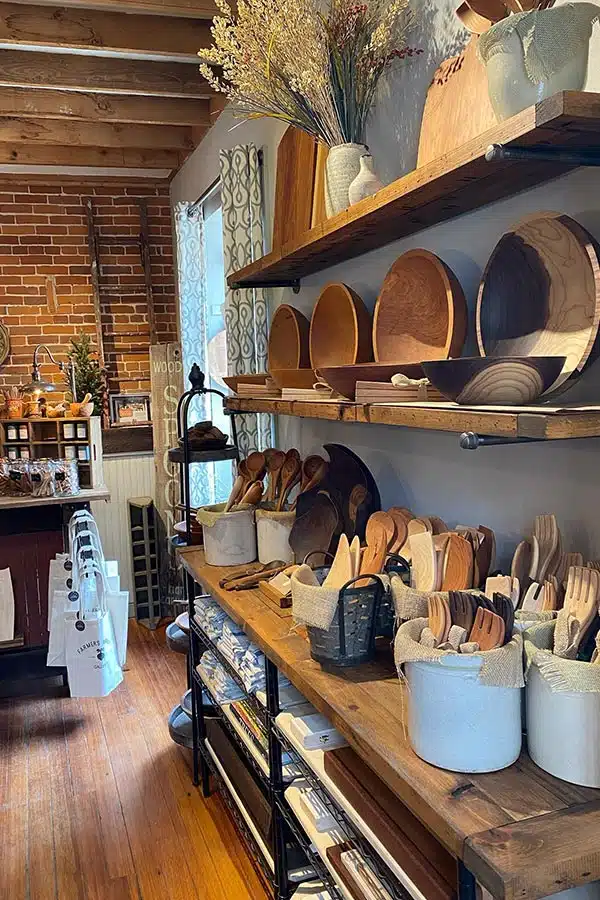 Spoon Carving Workshops at The Spoon Carver Cottage
Luckily, Paul also offers spoon carving lessons just a few blocks away at 306 S. Prospect Street, in downtown Galena.
Learning spoon carving takes little to no wood working experience. Paul is an experienced and skilled teacher, so all you really need is an open willingness to try.
Current classes last for 3 hours and cover basic spoon carving techniques. These include wood selection, breaking-down logs into spoon blanks, basic axe and knife skills, and finishing techniques. Attendees will learn to safely use an axe, straight knife, and hook knife to efficiently create their own, wooden kitchen spoon.
Afterwards, you'll walk away with an authentic, handmade keepsake, a few well-earned blisters, and a new skill. Priceless!
Spoon Carving classes are ticketed and held Sundays, 9am to noon, May through September. Visit the Galena Spoon Company website for more information. You'll find info for the spoon carving classes here. You can also visit the store on Facebook.
What kind of fun activities and attractions are you hoping to enjoy during your Galena getaway? Let us know and we'll help to get you pointed in the right direction. Hawk Valley Retreat loves sharing the area with our guests!