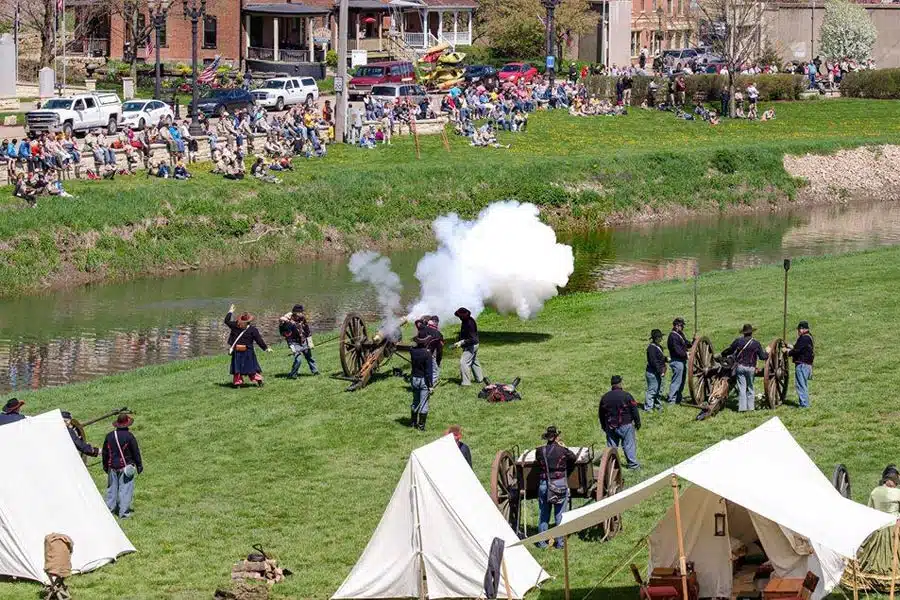 April's a big month, here in Galena. We not only host General Ulysses S. Grant's Home Front Civil War Reenactment (April 22-24) but also celebrate Grant's Birthday Weekend (April 29-May 1). In fact, this year we're celebrating his bicentennial birthday!
Galena, IL is well known for its history. Attractions like the U.S. Grant Home, Apple River Fort, the Old Blacksmith Shop, and the Elihu B. Washburne House draw visitors all year 'round. Once the end of April rolls around, however, unsuspecting visitors might think they'd stumbled into a time machine.
Grant's Home Front is a Civil War Reenactment held in Galena, on the 4th weekend of every April. This coincides with our 18th president's birthday, which falls on April 27th. So you can understand why things get more than a little 19th century around town towards the end of the month!
Hawk Valley Retreat and Cottages' convenient location puts you just 8 miles east of downtown Galena. This means you can enjoy the fun and excitement in town knowing that the quiet serenity of your Hawk Valley Retreat accommodations are just minutes away. Perfection.
Grant's Home Front Civil War Reenactment 2022
Grant's Home Front is a family friendly, living history event that sees actors portraying both soldiers and citizens of the 1860's.
Attendees can visit the Civil War encampment, see period medical demonstrations, military drills, daily battles, and more. Living history stations in camp include infantry, artillery, medical, and civilian. You'll also have the chance to interact with the reenactors, maybe even General Grant and his staff!
Looking to take home a memento? Stop by the Sanitary Fair, a Civil War Ladies Bazaar in support of the troops, and peruse the beautiful, handmade items for sale.
Grant's Home Front 2022 Schedule
The 2022 Grant's Home Front Civil War Reenactment is scheduled for the weekend of April 22nd through the 24th. The event takes place in Galena's Depot Park at 91 Bouthillier Street.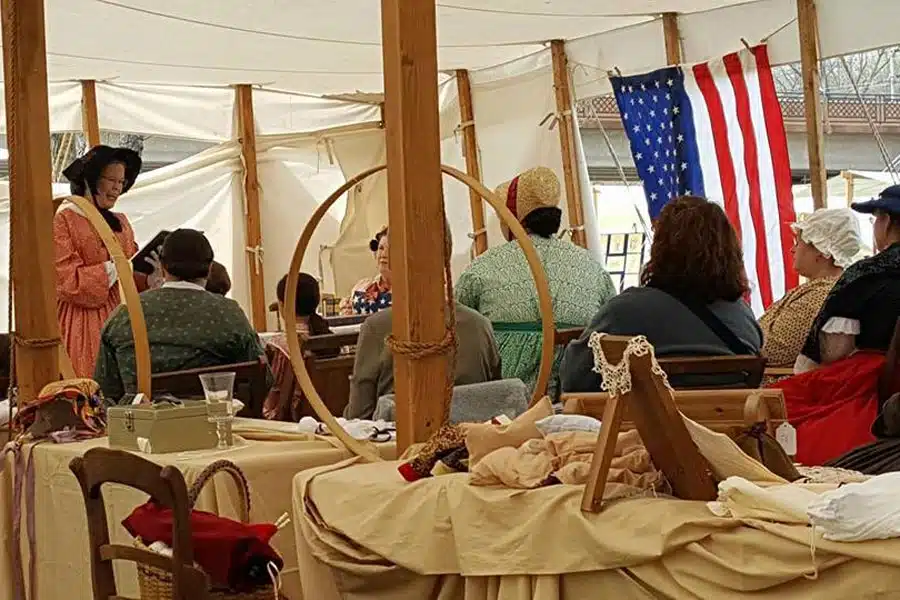 Saturday, April 24
9am – Camps open to the public
10am – Sanitary Fair opens
11:30am – Battle on the Fever River
1pm – Talk to Public in Camp
4pm – Camps close
Sunday, April 25
10am – Camps open
11am – Galena Soldiers Aid Society Meeting
1:30pm – Battle on the Fever River
2:30pm – Camps Close
Learn more online at tristatehistoricalpresentations.blogspot.com and Facebook.
U.S. Grant's Bicentennial Birthday Celebration Weekend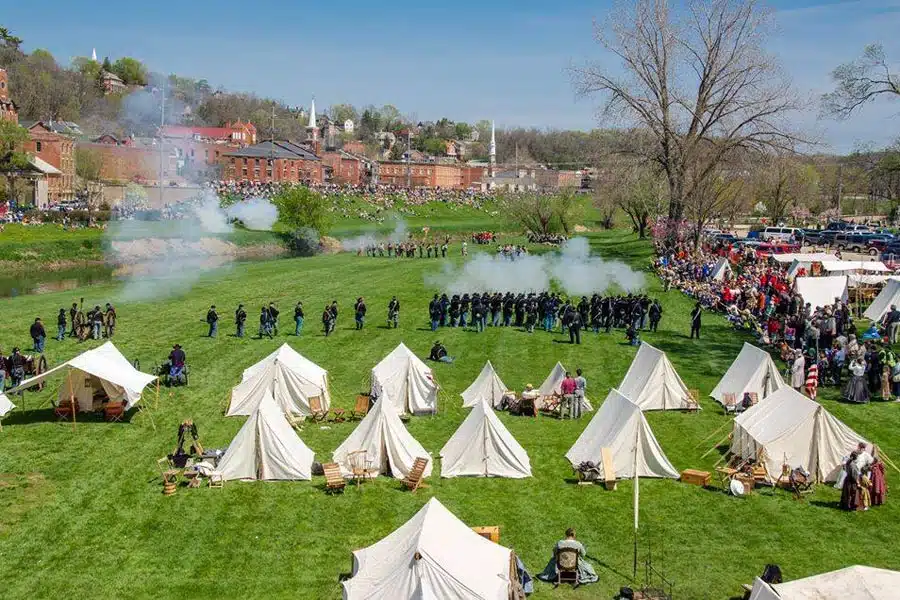 April 27th, 2022 isn't just any birthday for President Grant but his bicentennial! That's right, Ulysses S. Grant was born 200 years ago on April 27th, 1822.
Galena commemorates this historic event with three days of fun and celebration, April 29th through May 1st, 2022.
Attractions include Lamplight Tours of both President Grant's Home and Elihu Washburne's Home, including a chance to meet President and Mrs. Grant. The museum will unveil its new, digital, interactive Peace in Union exhibit as well as the new Galena Generals exhibit in Military Hall. The Blacksmith shop will offer free blacksmithing demonstrations and you won't want to miss getting a free piece of Grant's 200th birthday cake!
The event also includes a pie auction, community dinner, Sunday service, free admission to the U.S. Grant Museum, Old Blacksmith Shop, and much more.
Visit galenahistory.org for further details.