Visit the Ulysses S Grant Home – Grant In Galena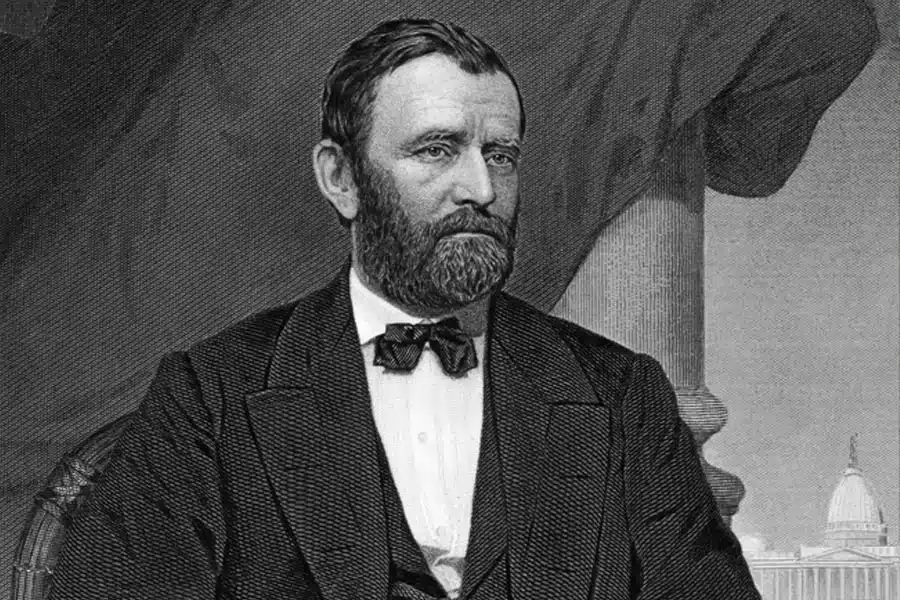 President and General Ulysses S Grant may not have lived in Galena very long but he sure made an impression! He remains Galena's most famous citizen, with lots of history to see, like the Ulysses S Grant Home, right here in town!
Grant moved to Galena with his family in 1860. His 15 year military career was over, so he came to work at Grant & Perkins, a leather goods store owned by his father and manged by his brothers. He rented a brick house on Bouthillier Street, designed by William Dennison for a former City Clerk in 1860.
History had other plans, however, and barely a year passed before the Civil War intervened. Grant left Galena to serve the Union in the spring of 1861. Four years later, he'd risen from commissioned colonel to a Civil War hero and the General who accepted the Confederate surrender at Appomattox.
Grant returned to Galena in the summer of 1865 to much celebration. The house his family was living in on Bouthillier Street was gifted to the returning hero. While he loved both it and Galena, his life kept him from spending much time with either. Three short years later he'd won the election as America's 18th President.
Grant continued to visit Galena when he could, over the years, with his last coming in 1880. He died in New York in the summer 1885. His children gave the house to the City of Galena in 1904 to be kept as a memorial to the late General Ulysses S. Grant.
Visiting the Ulysses S Grant Home
Though Grant spent little time at the house on Bouthillier Street, it was his official address during the election, his presidency, and through his retirement. It is a National Historic Landmark and listed on the National Register of Historic Places.
The house was restored to its 1868 appearance in 1955 and much of the Grant family furnishings remain in the house. Tours of the home will not only reveal intimate details about Grant and his family, but also their life and times.
The Ulysses S Grant Home is open for tours seasonally, Wednesday through Sunday, 9am to 4:45pm. Learn more at the Ulysses S Grant Home website.
More Grant in Galena
The Ulysses S. Grant Home is not the only historic Grant attraction in Galena.
History buffs will also enjoy a visit the Galena & U.S. Grant Museum. Here you can see a mock-up of the Grant & Perkins store where he worked, as well as his boot, cigar, bow tie, and more.
The museum also hosts the annual Grant Birthday Weekend, held the third weekend, every April. The three day celebration includes special dinners, live music, and other events.
Ulysses S Grant Home Site of Civil War Re-enactment
Another big, Ulysses S Grant event in Galena is the annual Civil War re-enactment, held every year, the last weekend of April.
Thousands come from around the country to witness the historic reenactments of the Siege of Vicksburg and the Battle of Fever River. Events include a military drill, two battles, a 19th-Century Bazaar, period dancing, civilians in period-correct attire, and a period church service.
Learn more at: tristatehistoricalpresentations.com
Galena Lodging
Hawk Valley Retreat & Cottages is nestled on 10 secluded acres of meadows and gardens, just 8 miles east of downtown. Our Galena Bed and Breakfast offers three guest rooms in the main house and four private cottages. The grounds include a pond, walking trail, porch swing, gazebo, and a renovated barn available for rental or day events. Come soak up the history and friendly warmth of Galena at Hawk Valley Retreat & Cottages!